Celebrate National Beer Day with Beer Cheese
Rejoice, National Beer Day is here and we're seizing the day by combining two of our favorite things: beer and cheese. The method to beer cheese madness is so easy that it can be whipped up after a long night of revelry (which yours truly consistently did in college). 
Start by making a roux of equal parts of flour and butter. The darker the roux, the deeper the flavor. Then, add in the beer. For his beer cheese recipe, ICE Chef-Instructor Chris Arturo typically opts for a lager. "My thought process is I'm adding milk, butter and cheese — all very round flavors," he says. "A lager has a bit of brightness that continues to shine through those creamier flavors."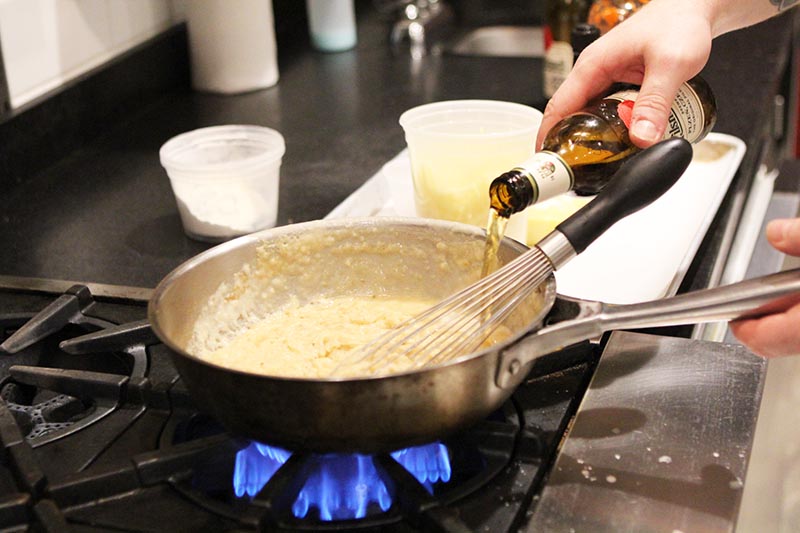 Then, add the cheese. Though this recipe uses a Gruyère cheese, Chef Chris's usual go-to is Taleggio. "It smells like feet and tastes awesome," he says. Add the cheese in batches so to make sure all lumps are completely eliminated. "You almost want to feel like a different gravity in the liquid," he adds. "It's gotta feel heavy."
Once fully incorporated, shut off the heat and add the remaining accoutrements. Chef Chris's secret weapon for his beer cheese is sherry vinegar. "It's not there to taste like vinegar at all, actually," he says. "It's more to accentuate different other flavors. I think of tastebuds as Velcro — different combinations can come through by adding a bit of acid."
While there are plenty of options to choose from, quite possibly the greatest vehicle for beer cheese dipping is none other than the pretzel. The buttery and salty exterior and fluffy interior cuts through the sauce like something of a divine intervention and cannot be beat. And like their beer cheese partner-in-crime, they're super simple to make. (All Culinary Arts, Pastry & Baking Arts and Bread Baking students partake in a pretzel dough lesson.) 

One rule of thumb when making pretzels is to make sure the dough is completely smooth. "It's called the windowpane test," says ICE's Director of Pastry Research & Development, Jürgen David. "It tells you that the gluten has developed — its structure is what holds in the C02 during fermentation and the steam during baking."

Cheers to you, beer lovers! The day is yours.
 
Recipe
Beer Cheese with Pretzels
Ingredients
For the Beer Cheese
40 grams butter
40 grams all-purpose flour
800 milliliters beer, preferably lager
2 pounds Gruyère cheese, shredded
700 milliliters whole milk
10 grams garlic powder
Worcestershire sauce, to taste
Sherry vinegar, to taste
Sriracha, to taste
Salt, to taste
For the Pretzel Dough
15 grams active dry yeast
28 grams sugar
680 grams warm water
1360 grams all-purpose flour
16 grams salt
115 grams melted butter
160 grams baking soda
Egg yolk/water mixture of 60 grams yolks and 40 grams water
Directions
For the Beer Cheese
Add butter to sauce pot and melt over medium-high heat. Once melted, whisk in flour until thick, about two to three minutes. 
Add lager and whisk until thick. Working in batches, whisk in Gruyère. Add whole milk and bring to a boil and allow to thicken. Add garlic powder, Worcestershire, Sherry vinegar, sriracha and season to taste. 
Pour into a bowl and serve with pretzels immediately.
For the Pretzels
In a large bowl, dissolve yeast and sugar in water.
Add flour, salt and melted butter to the yeast mixture and mix to combine.
Empty bowl of dough onto table and knead until smooth and elastic, about 5 to 7 minutes.
Place dough in a lightly oiled bowl and allow to rest until fermented.
Meanwhile, prepare a rondeaux with about 2 1/2 quarts of water and the baking soda and bring to a rolling boil once the dough is fermented.
Once the dough is fermented, turn the dough out on a lightly oiled surface and divide the dough into 16 equal pieces.
Roll each piece of dough into a 24-inch long rope. Make a U shape with the rope. Holding the ends of the U, cross them over each other and press into the bottom of the U to form the pretzel shape.
Place the pretzels onto Silpat-lined sheet pans that have been lightly brushed with oil or sprayed with Pam.
Place each pretzel into the boiling water mixture for about 30 seconds. Remove from the water and return the pretzel to the sheet pan.
Brush with yolk/water mixture, then top with pretzel salt.
Bake at 450˚F until golden brown. Transfer pretzels to cooling racks.