Pump Up Your Avo Toast Game with a Circulated Egg
In celebration of National Egg Day, ICE Chef-Instructor Chris Arturo shows us the way.
Scrambled, over-easy or fried, as a frittata, a Benedict or sopped up via toasty bread shakshuka-style, the humble-yet-mighty egg can be enjoyed in a myriad of fashions. And when it comes to weekend brunch, line cooks and chefs far and wide turn to the trusty immersion circulator to handle the mimosa masses. 
Operating as temperature-controlled water environments, immersion circulators can be used to sous vide a variety of proteins — including eggs. "Back in the day when I worked brunch at the restaurant, we needed hundreds of eggs cooked perfectly at the same time, and this is such an efficient method," says Culinary Arts Chef-Instructor Chris Arturo, who prefers his circulated eggs to be cooked at precisely 63˚C. 
Eggs cooked at 63˚C for an hour leads to an end result of nicely cooked whites and a mildly — or as Chef Chris puts it, "luxuriously" — runny yolk. "I feel like at 64˚C, it begins to get a little too fudgy. I wouldn't mind that in a ramen, but for breakfast, 63˚C is the way to go."  
Immersion circulators have become so mainstream that there are several affordable options available for at-home use. (Chef Chris recommends checking out Amazon.) 
And if you don't have the ability to drop your eggs in a circulator — or simply don't want to wait for an hour for the finished product — opt for a soft-boiled six- or seven-minute egg.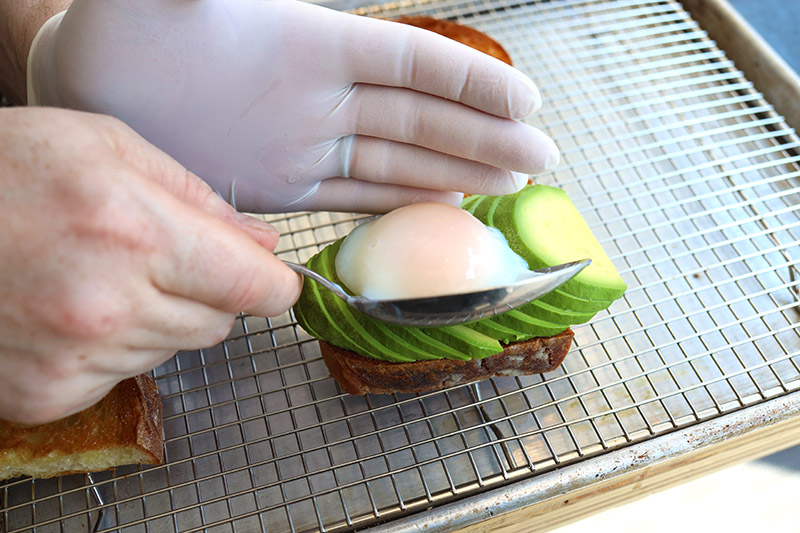 Cook eggs with Chef Chris at ICE
Recipe
Avocado Toast with 63˚C Egg
Serves 1
Ingredients
1 egg
Extra-virgin olive oil
1 thick slice sourdough bread
1 Hass avocado, halved and pitted
Hawaiian black sea salt
Vinegar of your choice, such as Sherry
Microgreens or edible flowers, such as Pluto basil
Directions
Heat an immersion circulator to 63˚C. Cook egg for 1 hour.
In a nonstick skillet set over medium heat, add 2 tablespoons of olive oil. Toast sourdough on both sides until golden. 
Remove avocado from peel with a spoon and slice heavily on a bias. 
Place toast on a plate and shingle avocado across toast; season with salt and black pepper. Make a divot into the avocado. Carefully crack the egg into a spoon and remove the excess white. Spoon egg into divot and season with black sea salt, olive oil and vinegar. Garnish with Pluto basil.